A Walk Through Time
Be the historian and explore 900 years of history in Aztec, New Mexico! Record your observations in our downloadable Field Guide and learn about the importance of Aztec to the ancestral Puebloans, Spanish-Mexicans, and Anglo-American settlers. This all day field trip will give students insight into the vast cultural histories that make the Four Corners so unique.
This field trip is brought to you by Aztec Ruins National Monument and the Aztec Museum and Pioneer Village.
When
May - October 2019
Where
Aztec Ruins National Monument, 725 Ruins Road, Aztec, NM 87410
Aztec Museum and Pioneer Village, 125 N. Main Ave, Aztec, NM 87410
Cost
Aztec Ruins National Monument - Free
Aztec Museum - $3 per person
Dear Teachers,
Below, please find possibilities to expand and extend your field trip to the Aztec Museum and Pioneer Village.
Before you leave on the field trip:
Print out the New Mexico History: "A Walk Through Time" field book. Print, fold, staple. One field guide for each child. Students will need pencils and some sort of clipboard or cardboard with clip as a writing surface.
Each of the square "windows of the past" in the field book reflects locations along the way.
Watch the 12 minute video on the pre-historic and early settling of the San Juan Basin. Have students locate "windows 9 and 10" in their field book. As they watch the video, ask them to list and evaluate at least three things that caused people to settle in the local area: both in pre-historic and late periods of human habitation.
Continue with the Teacher's Guide as field trip day begins at the Aztec Ruins National Monument. If there is time, ask students to fill out "windows pages 1 – 8" in the "A Walk Through Time" field book.
Aztec Museum and Pioneer Village
Once at the museum, remind students to check their notes from pages 9 and 10 on the video they previously watched. If needed, and you have supervision; divide the class into 3 groups. Maps and Teacher Guides will be given to you and your chaperones when you arrive at the museum. Each of the groups will be instructed to begin in a different stop, thereby allowing a smaller group experience for the students.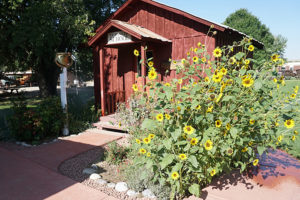 The visit to the Aztec Museum and Pioneer Village should allow approximately 20 minutes at each stop.
If for some reason, there are other time constraints, consider how much time you have, save a bit for gathering on the bleachers for follow up and divide by five as there are five stops. Then group leaders will know how long to stay at each village building.
Please allow for writing time to fill out the "window" at each stop. Use the handout that you will receive at the museum to find prompt and discussion ideas for each stop.
Note: Depending which group you are in and where you start, look for the appropriate "windows" in the field book. Example: Group 2 will start at STOP 3 – THE FARMHOUSE and will need to find the response "window 13" . . . and so on.
Synthesis Activities
Accordion Book
Diamante Poem